Brand Guidelines aka the Brand Bible
By Danielle Williams /
Chief Design Officer
Brand Guidelines, often called the Brand Bible to designers, are one of the most important assets a corporation/small business/rockin smoothie shop can have to create a cohesive identity.
In the world of brand guidelines, hierarchy rules and designers are often challenged to balance on the line between brilliant and boring. Guidelines can range from a few dozen pages to over 100, but the idea is that this is a brand's living identity explained. From tone of voice to logo usage to photography style and grid systems, this document literally guides a company on how to treat their brand assets. So designers have this daunting task to create a holy document that is clear, concise, and also has a splash of brand personality.
Needless to say, sometimes we all need a little inspiration.
DAMS, and Australian design and branding studio, has put together an impressive resource of modern brand guidelines and editorial pieces all in one place to get you excited about layout again. Below is one of my favorites from the collection.
Land Registry Identity Guidelines
Designed by North / 2003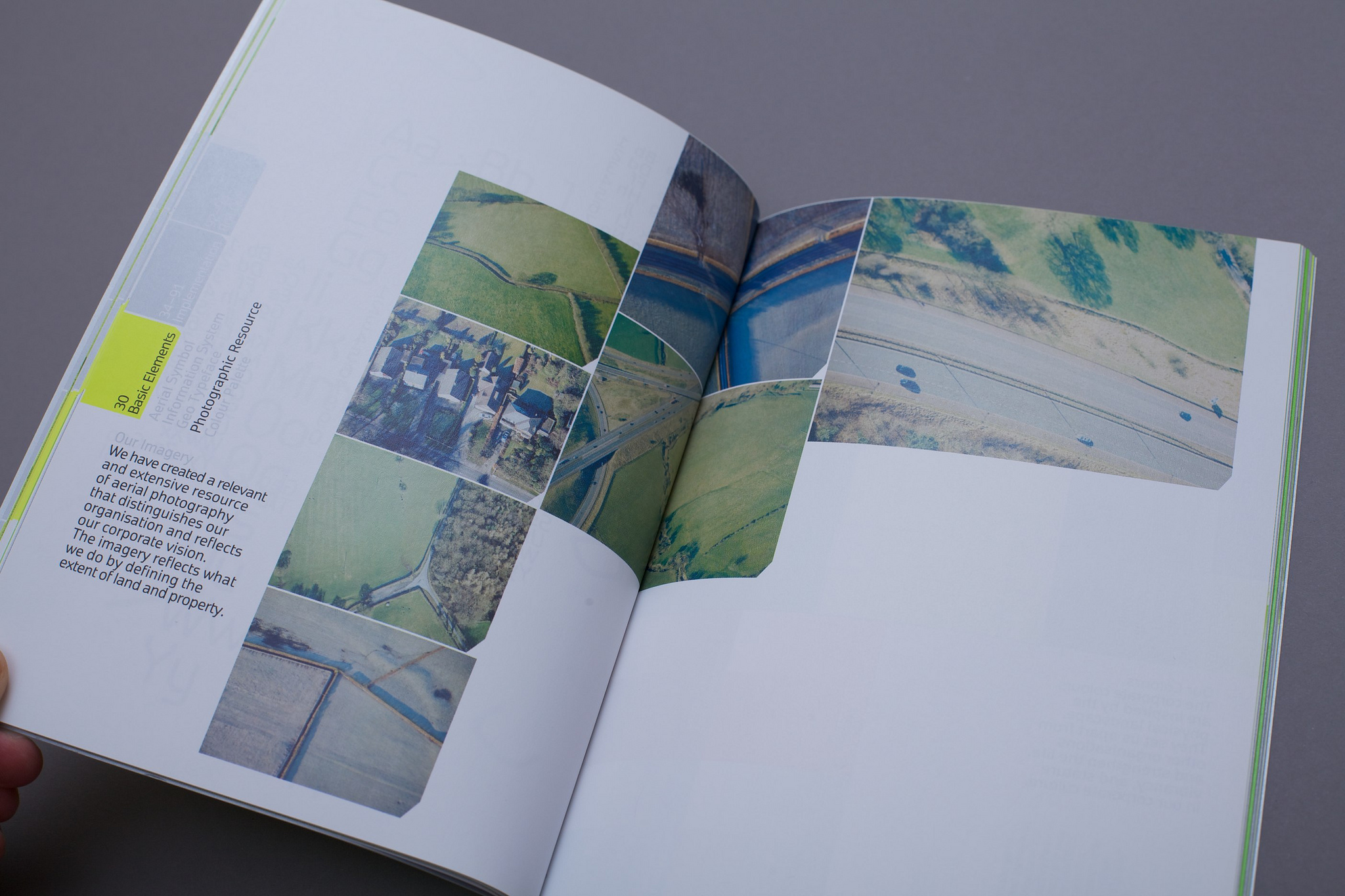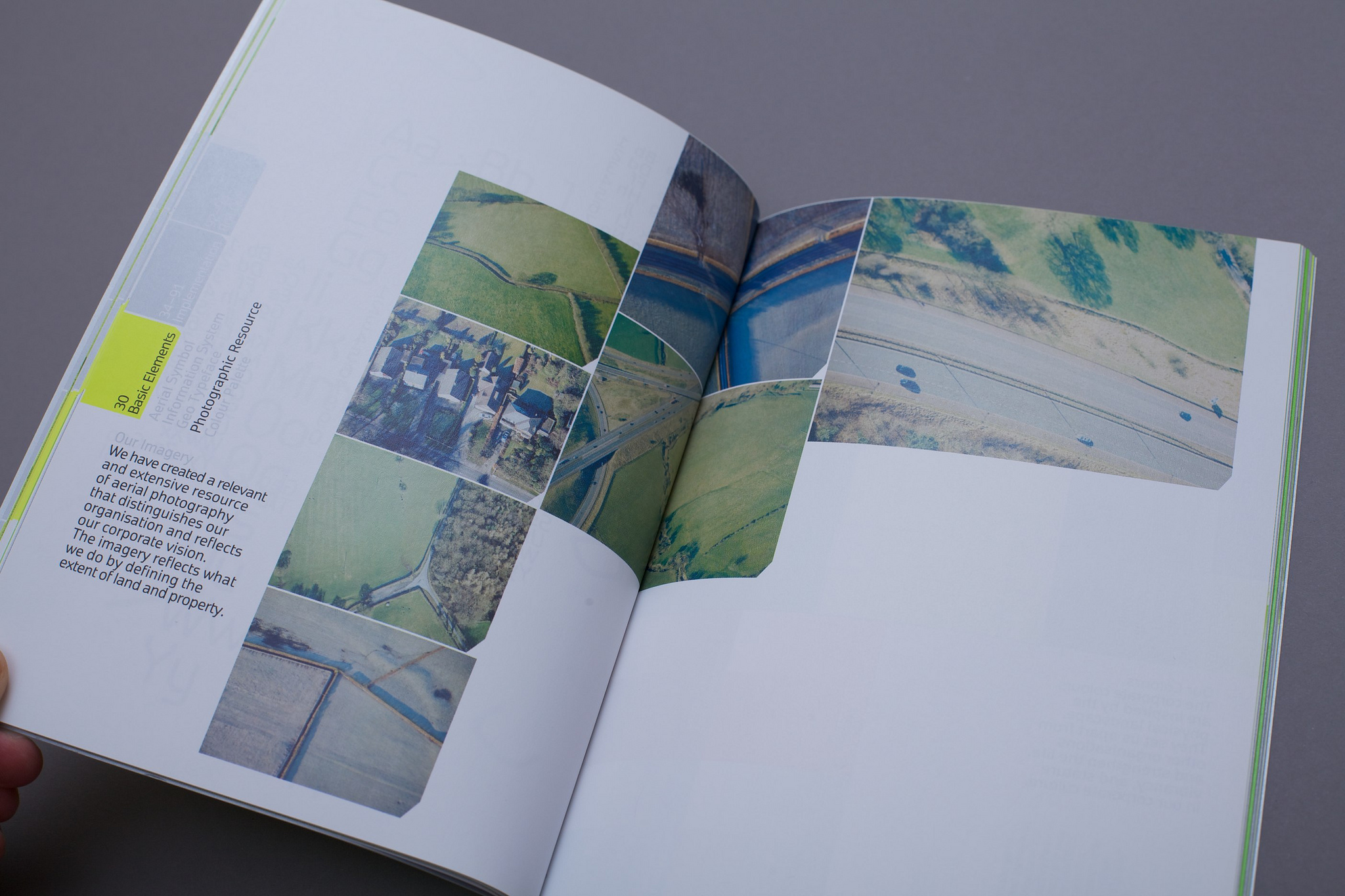 Here are some details that make these guidelines successful:
There is a clear grid. It looks like this layout has a slight flexing grid of 3 columns with the primary text resting in the first column on the left side of the spread. Personally, that is how I like to organize my copy in a similar fashion. Keeping the text in a similar spot for every section lets the viewer find what they are looking for quickly, even when the topic changes.
 

The sections are clearly defined by tabs. There are many different ways to call out and organize sections of brand guidelines: tabs, color differentiation and of course the classic topic in the upper left-hand corner, to name a few. With these guidelines, the tabs move down the left side of the spread so even when the book is closed you can see where there sections change on the page edges.
 

Changing the text orientation adds personality and readability. Right from the cover, the reader is set up to expect a combination of vertical and horizontal text orientation. In these guidelines it appears that wayfinding details and more "note" like explanations are turned vertically, and the primary text is left traditionally horizontal. Turning text blocks willy-nilly isn't the answer for every brand guideline design. But in this case typography is the leading brand element (photos act more as textural backgrounds), it is appropriate to be more daring with orientation, especially when rules are applied to its use.
At the beginning of my career, I worked at a studio branding colleges and universities throughout the United States, which meant a lot of brand guides being created with specimen sheets and logo usage pages. It was fun to outline a brand's elements (I am a serial organizer), but I also spent a lot of time struggling to think of every possible application of an asset and how to explain its usage in an easy to understand way.
So here is my advice: don't sweat every detail.
You're never going to think of everything, and sometimes the best method is to leave a little wiggle room so a brand can be flexible (remember these are guidelines, not laws). But the important parts will be there: the typefaces, logo treatments, color palette and photography style. And most designers will be able to work with this limited amount of information. So instead of looking at brand guidelines as a chore or drag, think of it as an opportunity to let the brand express itself.