Website Launch / Damascus Campus
BY DANIELLE WILLIAMS /
CHIEF DIGITAL OFFICER
The mission of Damascus is to empower a generation of Catholics by establishing a faith-awakening campus that fosters faith that is deep, contagious, and joy-filled. Since 2001 the team at Damascus has been working to encourage faith and inclusion for teens, adults, and those in the in Ministry.
As times continue to evolve, Damscus knew they needed a digital space to explain their complex mission and passion in a modern and inspiring way.
They needed to be able to reach the youth and show them that Faith isn't just a cycle of kneeling and standing for an hour a week. Faith is what makes you feel connected to other people, to bigger things, and to your own conscience. Damscus also wanted to give community supporters and parents the resources to see what the campus is doing to affect lives.
Due to the amount of content we were asked to represent in this website, we worked to Andy Stiebler to construct a navigation and content outline that would separate topics into a more straightforward and engaging way. When visitors explore the top nav on desktop they notice that instead of cluster of links and pages they are greeted with a full width menu that includes images and brief descriptions to help give a taste of what information the next page will hold.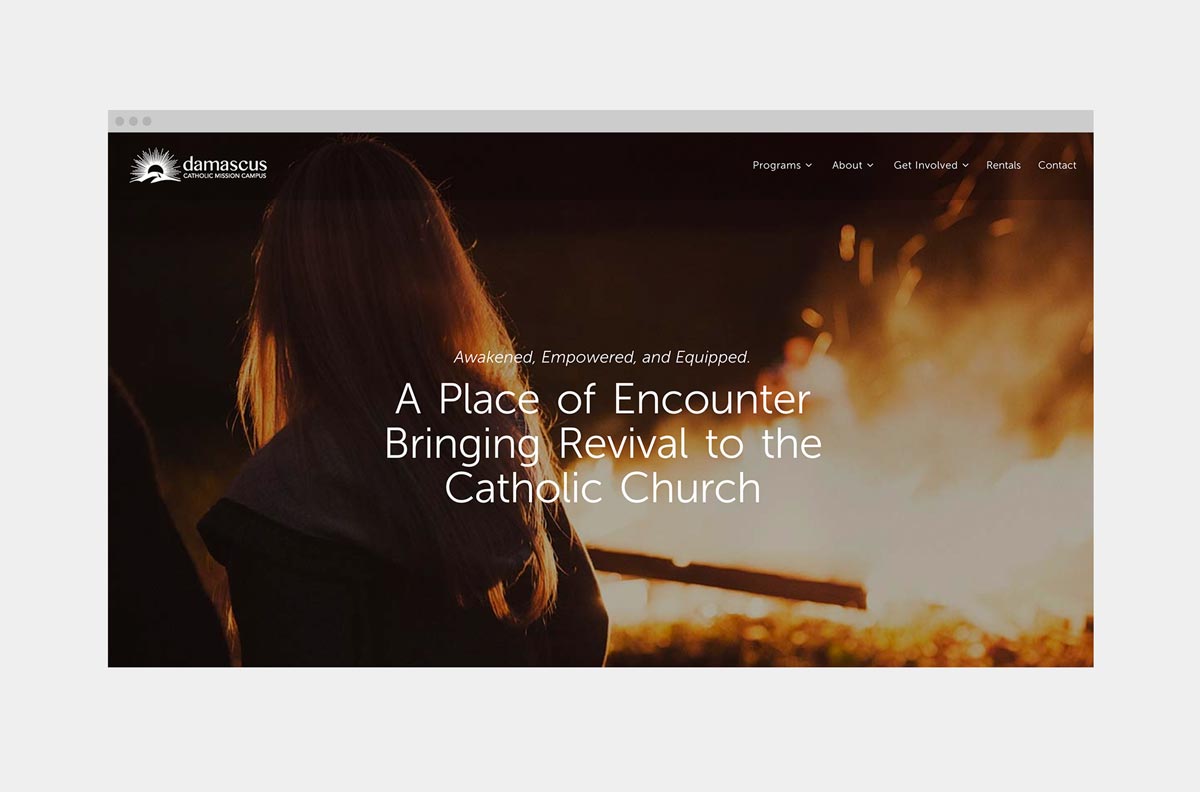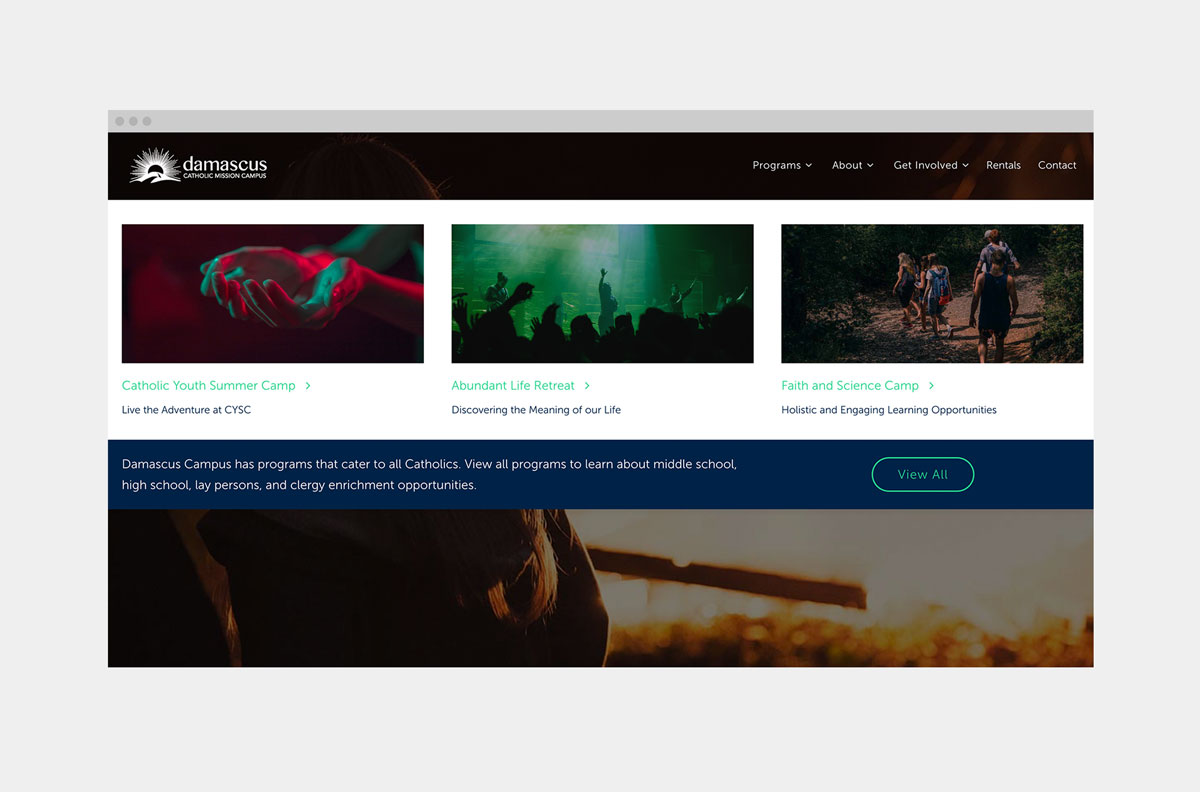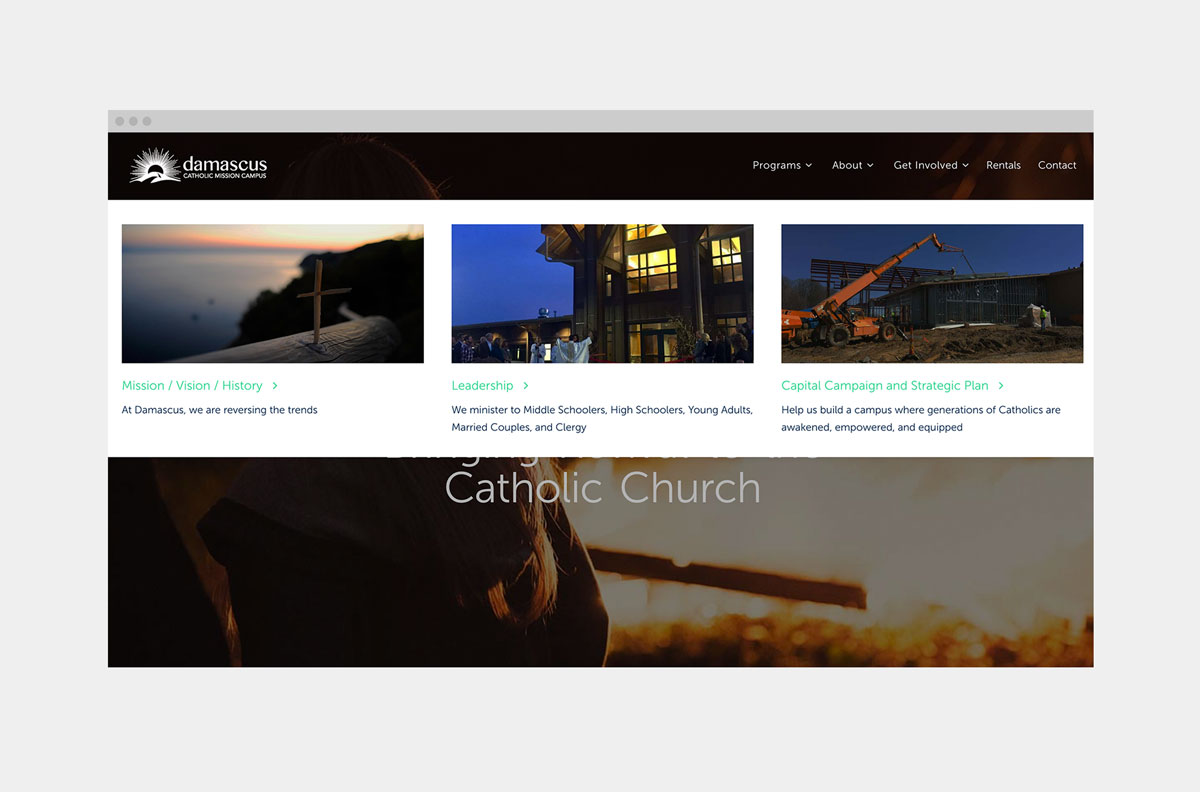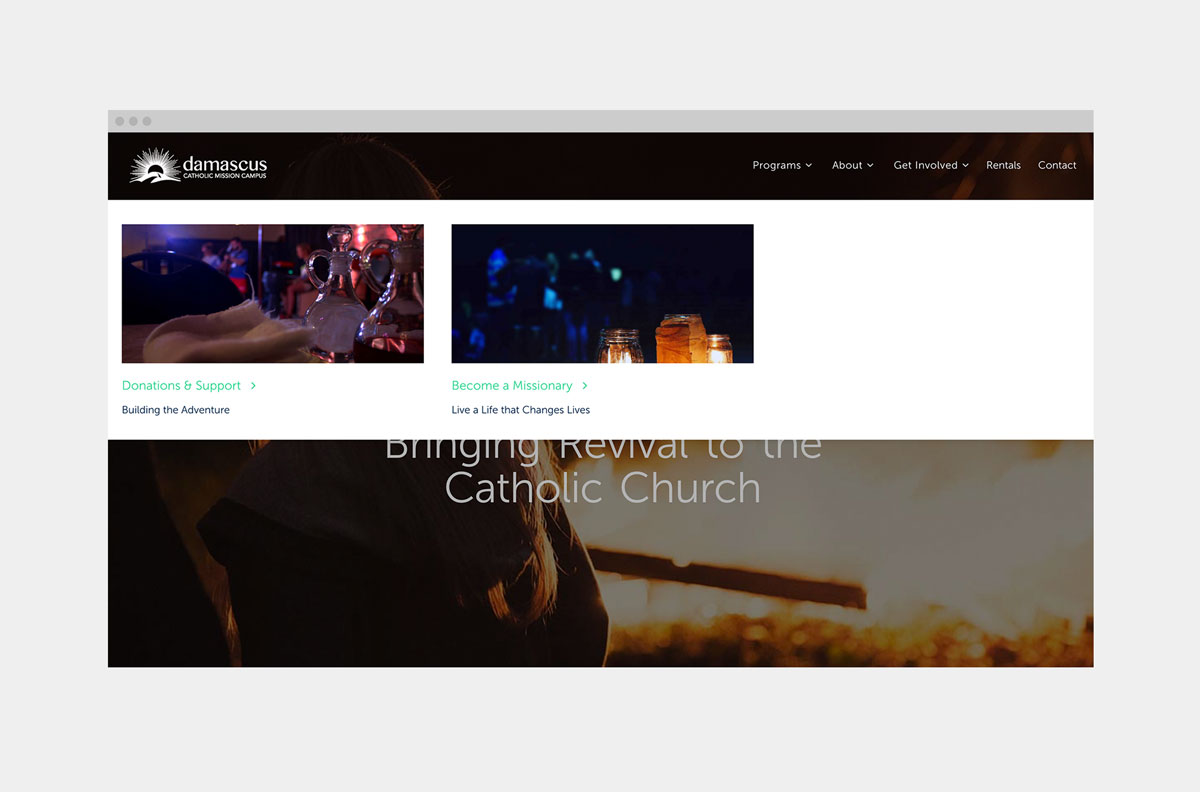 Designing the navigation this way helps give visitors a more comprehensive view of Damascus right away. And by selecting images that have energy and an emotional quality to them, it also intrigues younger visitors to dig deeper and not loose interest.
The goal of Damscus programs is to create a place where high adventure activities lead to high adventure Faith.
In fact, they currently host five different programs for middle school, high school, young adult, and clergy members to partake in. Participants experience their faith coming alive for themselves through high adventure activities, worship ministry, adoration, games and much more. Sounds pretty darn cool, right? Well to help tease out every program and let visitors figure out where they fit we created a Program Hub page with filtering available. This feature lets people see what programs are available to them and then click to learn more.
It can be hard designing two demographics on the same website (for example both young people and Ministry leaders).
However, one of the best ways the reach seemingly opposite audiences is to tell a clear story and support it with consistent visuals from beginning to end.
Throughout the whole website we were lucky enough to use a mixture of high impact photography from Damascus as well as more evergreen stock images that fit their style, which we established as personal, reflective, and joyful. Combining these images with fields of rich navy and pops of lively green text pushed this website to be approachable (no matter who you are) but also unexpectedly slick. Because let's be honest, few church websites are very modern.
By creating a consistent look that is easy to navigate we were able to earn the trust of the Ministry audience. And with the integration of video and photography assets that showed just how fun being at Damascus is, we won the attention of young people alike.